If there are any questions about any of the events listed here, please contact the church office at 712-338-4031 or 712-338-2355.
Every Tuesday is Nursing Home Ministry with Shirley & team.
Every Tuesday at 12:00 noon, prayer group meets at HOJ. All welcome.
Women's Bible Study will begin a seven week study on May 21st at 9:00am in the Fireside Room with Angie Smith, "Seamless" .
Joy Youth Programs will resume September 2019 after school until 5:00pm
Church Shower: Needed items: paper towels, toilet paper, coffee cups with lids, dish soap, hand soap, coffee and coffee filters.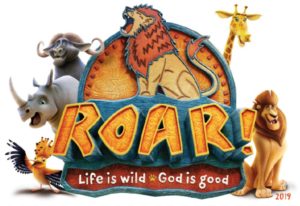 ROAR, Life is wild–God is Good!  VBS–Coming July 29-August 1st, 5:30-7:30.  Bible stories, Food, Singing, Crafts & Games. Come join the fun!!